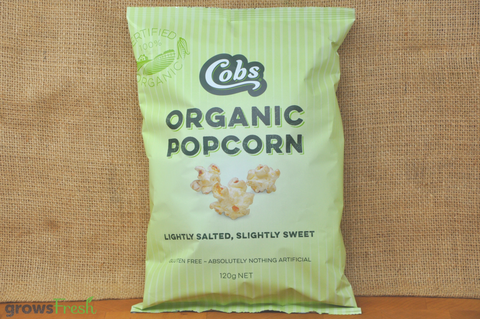 Cobs Organic
Cobs - Organic Popcorn - Lightly Salted, Slightly Sweet - Australian
Delicious Cobs Organic Lightly Salted, Slightly Sweet popcorn in family 120g packs.
Cobs then pop each kernel to perfection, creating fluffy & crunchy organic popcorn. With just the right amount of organic raw sugar & sea salt, you're left with the most delicious popcorn imaginable.
No nasties, no additives.
Cobs have made these a fresh crunchy organic pop corn snacks by combining 100% certified organic corn kernels with the goodness of premium organic high oleic sunflower oil.
Gluten-free
Plant-based
High in wholegrain
100% sunflower oil – Never palm oil
No added MSG
Absolutely nothing artificial
Ingredients: Organic popcorn (63%), Organic Raw Sugar, Organic Sunflower Oil – High Oleic, Organic Sea Salt.
Servings per pack: 5
Serving size: 25g
Average Qty
per serving
Average Qty
per 100g
Energy
406Kj
2030Kj
Protein
1.0g
5.2g
Fat – total
4.5g
22.4g
– saturated
0.4g
2.1g
– trans
<0.1g
<0.1g
– polyunsaturated
0.8g
3.7g
– monounsaturated
3.3g
16.6g
Cholesterol
0mg
0mg
Carbohydrate – total
12.2g
61.6g
– sugars
3.3g
16.2g
Total Dietary Fibre
1.7g
8.2g
Sodium
55mg
272mg
Gluten
Nil
Nil