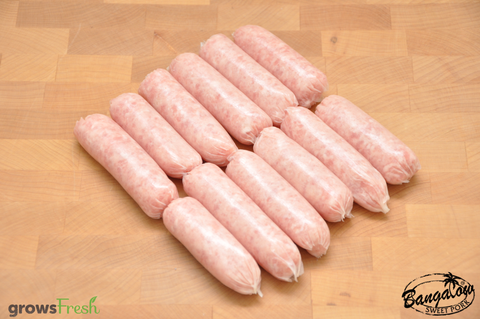 Bangalow
Bangalow Pork - Fresh Premium Pork Sausages - Small Size - Australian
Fresh Bangalow Pork Sausages. Made from Australia's famous Bangalow Pork, our own seasoning & that is it, 
no fillers or breadcrumbs, and gluten free.
Ideal for a gentle fry in a pan, on the grill or BBQ. Serve them on their own, or wrap them in fresh bread, or a hotdog bun. 
Portion size: 500g per pack, which is approximately 6 sausages. 
Ideal as breakfast chipolatas, for parties, or just for the little ones to enjoy.
Sausages made only using meat and seasonings. No fillers, breadcrumbs or other.
When preparing to cook we suggest taking out of the fridge a few minutes before putting in the pan or BBQ grilling plate.
Preheat the pan or BBQ to medium heat and turn every few minutes until cooked through or golden brown on the outside. 
Some people like to 'prick' their sausages and this will cause the natural juices and fats to escape and be lost, we can suggest cooking low and slow to keep the sausage skins 'un-pricked' for a juicer sausage.
Bangalow Sweet Pork is 

supplied by small Australian Family Farms.

Their simple aim is to produce the best quality & best tasting Pork in Australia.

Key Features
✔ Unique flavour
✔ Antibiotic Free
✔ Multi-Award Winning
✔
Winner of Best Meat of any Category at Vogue Produce Awards.
Freshly wrapped in

 

bio-degradable brown

 

paper, please transfer to a reusable container for storage
Gluten Free
Chilled fridge shelf life - 5 days
Approx 10-12 small sausages