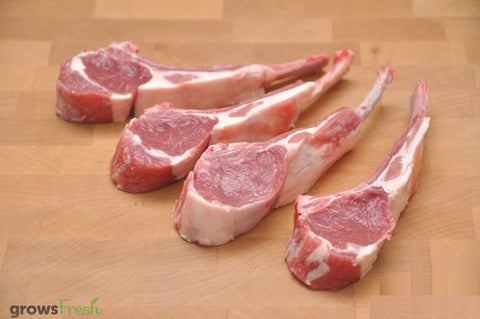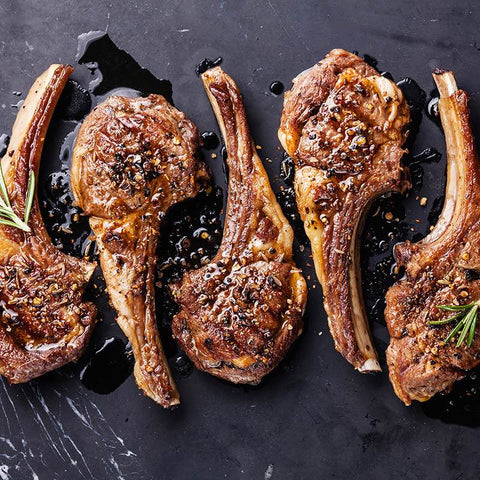 growsFresh
Lamb - Cutlets - Frenched & Cap Off - Grass Fed - Chilled - Australian
Premium Fresh Lamb rack cutlets, pure grass fed, premium trimmed (frenched and cap off (fat layer) removed). 
.
Pure grass fed lamb, super soft & tender with a mild clean crisp taste that only grass fed lamb can provide. High in Omega's and nutrient dense protein.
.
Australia's finest lamb, pure grass fed, sourced directly from farmers across the key southern lamb growing areas of Australia, southern Victoria, Tasmania, South Australia, and the Margaret River region of Western Australia. 
.
Our lamb is premium grade Australian lamb. It is MSA Graded - this means it is the highest grade Australian lamb.
Approximately four lamb cutlets are sliced fresh from the lamb rack.
Kids love picking up the these tender and tasty 'lamb lollipops', and are a great introduction for kid independent eating, simply wrap the bone end in a serviette and let them pick them up....fun and plenty of clean bones afterwards... Ideal for little ones from teething age up as the meat is so soft.
Cutlets are 

taken from the ribs of the lamb and cooked individually. When a number of them are left together and cooked as a whole, they're called a rack of lamb.
They are very easy and quick to cook up. Lightly season with Himalayan pink salt and let it absorb into each side for a few minutes, heat up a grill or pan to moderate heat, give our lamb chops a few minutes on each side until golden brown depending on your own taste, and then let rest for minute before serving.
✔ Free Range
✔ Sustainable
✔ Grass Fed
✔ No Antibiotics
✔ No Hormones (HGP's)
✔ No GMO's
Freshly vacuum packed with chilled fridge shelf life - 5 days
Approx 4 cutlets