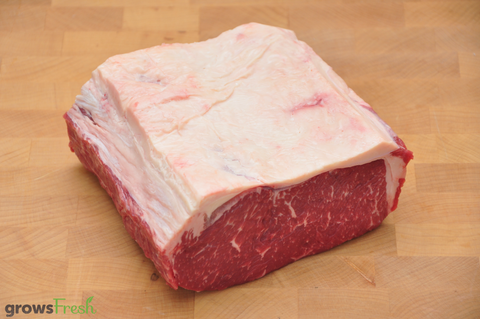 growsFresh
growsFresh - Beef - Sirloin (Striploin) Roast - Grass Fed - Australian
Australia's finest pure grass fed Black Angus Beef Sirloin/Striploin - a delicious cut ready for the BBQ or oven roast.
Super soft & tender, with high grade marbling and premium trimmed, your roast with be delicious high quality eating experience.
Your roast will be made fresh for your order. 
Made using the highest grade pure grass fed British-breed beef (Including Black Angus) from Australia's finest farmers in high rainfall areas. Now sourcing from the highest grade beef from Gippsland Region Victoria, King Island, & Margaret River WA.
Australia is producing some of the worlds finest pure grass-fed beef, we are now able to work with those who are focusing on sustainable, non-GMO, no hormones, and no antibiotics farming methods.
Sirloin, or Striploin is a choice roasting cut of beef, flavoursome, marbled, and tender.
Sirloin is cut from the back of the animal. It is a relatively lean cut.

 They have a fine, yet firm texture and are rich in flavour.

 It is a favourite cut for steak lovers.
Key Features:
✔ Free Range
✔ Sustainable
✔ Grass-Fed
✔ No Antibiotics
✔ No Hormones (HGP's)
✔ No GMO's