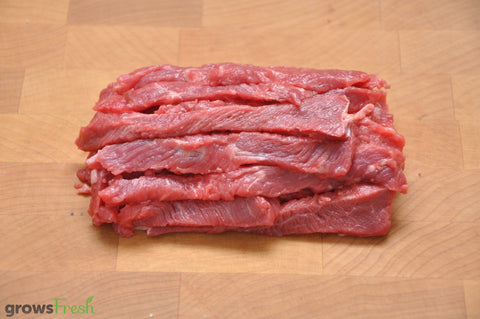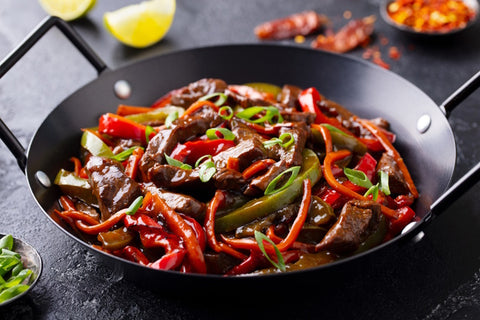 growsFresh
growsFresh - Beef - Tenderloin (Eye Fillet) Strips - Grass Fed - Frozen - Australian
Australia's premium grass-fed Black Angus Beef
 Tenderloin sliced into stir fry strips. YG/YP grade - high grade youngest Australian pur Grass Fed Beef.
.
The softest, most tender beef, makes for a luxurious and decadent stir fry, or noodles. They only need a quick pan fry to cook and then add your favourite stiry fry additions.
.
As the name suggests it is super soft and generally considered the most premium part of the animal.
. 
A convenient way to grab some quality beef and quickly whip up a family dinner, or something yummy for the little ones. Super soft, delicious tasting beef.

Made using the highest grade pure grass fed British-breed beef (Including Black Angus) from Australia's finest farmers in high rainfall areas. Now sourcing from the highest grade beef from Gippsland Region Victoria, King Island, & Margaret River WA.
Australia is producing some of the worlds finest pure grass-fed beef, we are now able to work with those who are focusing on sustainable, non-GMO, no hormones, and no antibiotics farming methods.
Tenderloin beef strips are from the premium tenderloin cut and same as the tenderloin or eye fillet steaks. The most tender part of the animal.
The strips are super soft unlike other, which need some low and slow cooking to tenderise the beef, they can be pan fried lightly.
✔ Free Range
✔ Sustainable
✔ Grass Fed
✔ No GMO's
Frozen vaccum packed, defrost in the fridge overnight and let sit for approx 20 minutes before starting your cooking creation.