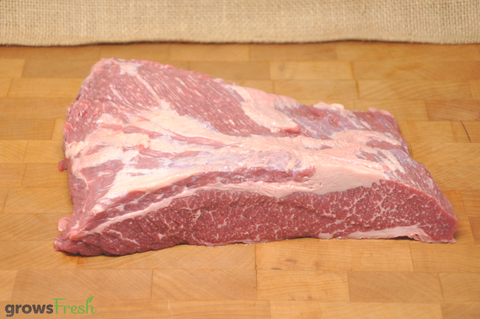 growsFresh
growsFresh - Beef - Brisket - Roast - Grass Fed - Australian
Fresh made to order from Australia's premium grass fed beef, our Brisket Roasts are premium trimmed to provide a lean and clean tasting roast.
Currently available: Australia Black Angus Beef - pure grass fed
Made using the highest grade pure grass fed British breed beef (Including Black Angus) from Australia's finest farmers in high rainfall areas. Now sourcing from the highest grade beef from Gippsland Region Victoria, Tasmania King Island, & Margaret River WA.
Australia is producing some of the worlds finest pure grass fed beef, we are now able to work with those who are focusing on sustainable, non-GMO, no hormones, and no antibiotics farming methods.
This cut, similar to Chuck, contains a great deal of connective tissue and therefore suits moist slow-cooking techniques that break down the connective tissue. Perfect for curries and stews with great full flavour and a fantastic gelatinous texture.
✔ Free Range
✔ Sustainable
✔ Grass Fed
✔ No Antibiotics
✔ No Hormones (HGP's)
✔ No GMO's
Freshly vacuum packed with chilled fridge shelf life - 5 days