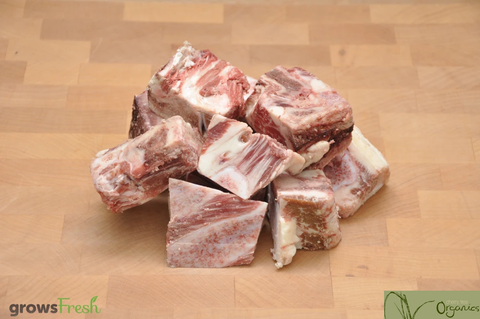 Cherry Tree Organics
Cherry Tree - Organic Beef - Broth Bones - Grass Fed - Frozen - Australian
Cherry Tree - Certified Organic Pure Grass Fed Beef Bones For Broth - approximately 1kg per pack. The quality of the broth from these bones is exceptional. One of a kind Certified Organic Grass Fed bones produces a very high quality, nutrient dense, & deep flavour. 
Cherry Tree Beef is now considered some of the finest Beef in the World, and the only Certified Organic Black Angus pure grass fed beef on the market. Velvet soft & nutrient dense.
A weekly staple for many of us here at growsFresh.
Packed full of beautiful pure organic grass fed nutrients, bones, marrow, and meat. Produces a broth that includes a high amount of pure collagen.
Cherry Tree Organics beef dual certified organic accredited under:

Certified USDA Organic (USA)
Southern Cross Certified Australia

Organic grass fed beef broth bones - produce the finest beef broth in taste and nutritional benefits. They contain a high marrow content.
Cherry Tree Organics beef is the only pure lush grass fed beef from high grade Black Angus genetics.
Shane and Ann Blundy have been farming sustainably using strict organic principles for more than 30 years.
Cherry Tree Organics beef is the highest quality and most nutritious beef we could hope for.
The beef bones are very high in nutritional content, collagen, and essential amino acids that you body cannot generate itself. Being organic that means you receive the purest form of nutrition. You can see after you produce the broth how much collagen is produced - incredible. 
This product comes with a money back guarantee.
✔ Free Range
✔ Sustainable
✔ Grass Fed
✔ No Antibiotics
✔ No Hormones (HGP's)
✔ Farm Assured
✔ No GMO's
Defrost in fridge overnight before use
Can be stored up to 12 months in freezer