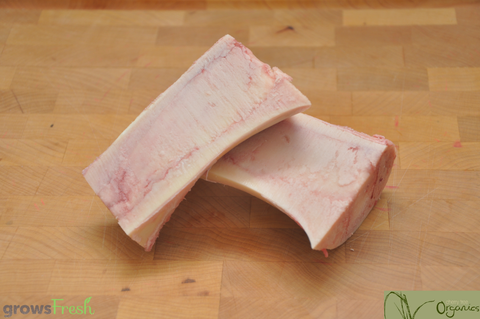 Cherry Tree Organics
Cherry Tree - Organic Beef - Marrow Bones - Split - Grass Fed - Frozen - Australian
The finest quality pure grass fed black angus Certified Organic Marrow Bones - ready for roasting.
Cherry Tree Beef is now considered some of the finest Beef in the World, and the only Certified Organic Black Angus pure grass fed beef on the market. Velvet soft & nutrient dense.
The marrow in these bones provides the highest nutrient quality available for any marrow bones. The Blundy family farm raises biodynamic organic pure grass fed beef which means the high quality soil nutrients feed all the way through to the quality of the marrow and bones.
Feel free to enjoy the delicious marrow on some crusty bread and then use the bones for a long soak broth.
Cherry Tree Organics beef is biodynamic and accredited under:

Certified USDA Organic
Australian Certified Organic: Southern Cross. No. 20119
Cherry Tree Beef like no other organic or traditional beef we have tried before. It is from high grade black angus beef which has been raised on high rainfall biodynamic organic grass and clover for more than 30 years. 
Shane Blundy and his family on Cherry Tree Downs in the Gippsland region of Australian have produced an amazing product.
✔ Free Range
✔ Sustainable
✔ Grass Fed
✔ No Antibiotics
✔ No Hormones (HGP's)
✔ No GMO's
Frozen vacuum packed shelf life minimum 6 months.
Defrost in the fridge overnight for use the following day.