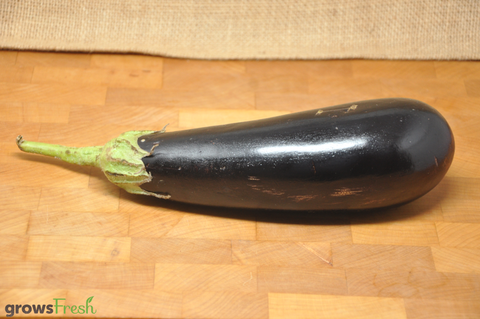 Lower Don ACO
Organic Eggplant (Aubergine) - Australian
Fresh Australian Certified Organic whole Eggplant
Good quality this week but they do have some skin scratches and tarnishes - at a lower price, a little ugly but the content should still be excellent.
Portions: various sizes available

The eggplant, also known as aubergine, garden egg, guinea squash, melongene, and brinjal, usually has an egg-like shape and a vibrant purple color.
It is rich in fiber, low in calories, like most wholefoods, it provides a range of nutrients.
Eggplants also contain flavonoids, such as anthocyanins. Anthocyanins are water-soluble pigments that have many health benefits. They also help give the eggplant its well-known, dark purple color. The skin of the eggplant is rich in antioxidants, fiber, potassium, and magnesium.
This vegetable is generally prepared and cooked. To prepare your eggplant, slice off the very top and the very bottom. You can peel off the skin if you prefer, but it's entirely edible. Cut eggplant into disks, strips, or cubes. Like most fresh wholefood vegetables, you can mash it, bake or roast it, braise or steam it, of pan fry or BBQ it..
Farmers: Lower Don ACO
Storage recommendation: As our organic fruit and vegetables are natural and not treated with any preserving agent, we recommend that that they are kept in the fridge or cool temperatures to slow down any ripening if not being eaten once received.