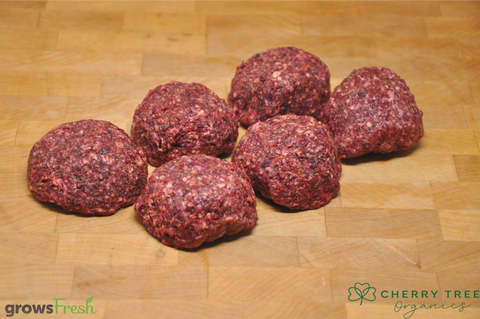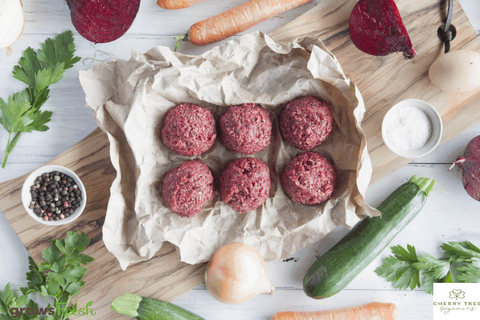 Cherry Tree Organics
Cherry Tree - Organic Beef - Beetroot Burgers - Frozen - Australian
Cherry Tree Organics Beef Beetroot Burgers have legendary status in Australia, and are one of the most popular items produced by the team. They are a lovely pink colour when cooked and the little ones love them, they also have a hidden vegetable factor of 9/10.
Cherry Tree Beef is now considered some of the finest Beef in the World, and the only Certified Organic Black Angus pure grass fed beef on the market. Velvet soft & nutrient dense.
Portion size: various weights available
Cherry Tree Organics beef dual certified organic accredited under:

Certified USDA Organic (USA)
Southern Cross Certified Australia No. 20119
All handmade with fresh and natural ingredients, no fillers, no breadcrumbs, just pure certified organic wholefoods. A combination of Cherry Tree Organic Beef, Onion, Zucchini, Carrot, Beetroot, Parsley, Himalayan Pink Salt, and Pepper.
Cooking Instructions: Grill, BBQ or pan fry. For best results ensure you don't overcook the burgers, they have beetroot in them therefore they are supposed to stay pink!

Convenient and easy to grab from the freezer and pan fry within minutes. Simply add to a wrap of slice of bread and you have a delicious 'snag sambo' or serve on their own.
Cherry Tree Organics Beef is very unique, it is Certified Organic pure lush grass fed Black Angus beef. 
From the Blundy Family in Victoria Australia, who have farmed this organic beef for more than 30 years.
Key Features
✔ Free Range
✔ Sustainable
✔ Grass Fed
✔ No Antibiotics
✔ No Hormones (HGP's)
✔ No GMO's
Defrost in fridge overnight before use
Cook low and slow in the pan or on the BBQ
Can be stored up to 6 months in freezer