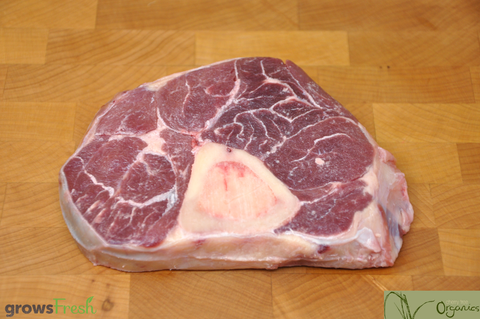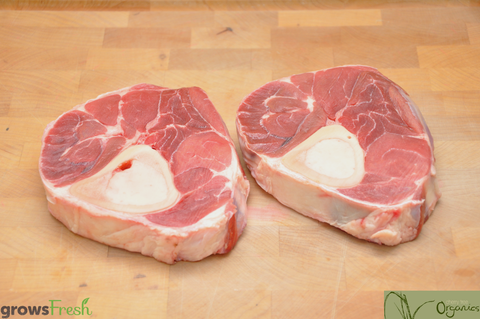 Cherry Tree Organics
Cherry Tree - Organic Beef - Fresh Osso Bucco - Grass Fed - Australian
Cherry Tree Organics Beef - Osso Bucco is a cut across the shank and includes generous meat portion and marrow. Normally slow cooked with broth and fresh vegetables for several hours, the beef and the marrow renders down into the vegetable stock making a delicious eating experience.
Cherry Tree Beef is now considered some of the finest Beef in the World, and the only Certified Organic Black Angus pure grass fed beef on the market. Velvet soft & nutrient dense.
Portion size: generally 1 piece per pack.

From calf aged animals, approx 12 months old.
The Blundy family farm raises biodynamic organic pure grass fed beef which means the high quality soil nutrients feed all the way through to the quality of the Osso Bucco.
Cherry Tree Organics beef is biodynamic and accredited under:

Certified USDA Organic
Australian Certified Organic: Southern Cross No. 20119
Shane's beef is like no other organic or traditional beef we have tried before. It is from high grade black angus beef which has been raised on high rainfall biodynamic organic grass and clover for more than 30 years. No other organic beef we have found can compare, and view shared by some 5 star and Michellin star chefs here in Hong Hong when they chose it over all others.
Shane Blundy and his family on Cherry Tree Downs in the Gippsland region of Australian have produced an amazing product.
Key Features:
✔ Free Range
✔ Sustainable
✔ Grass Fed
✔ No Antibiotics
✔ No Hormones (HGP's)
✔ No GMO's
Each pack contains between 2 - 3 pieces per pack
Chilled shelf live 5 days

Can be stored up to 6 months in freezer
Example recipe and preparation:
Takes about 6 to 7 hours to cook.
Ingredients;
One beef shank slice per person.
Root vegetables; whatever looks good- carrots, sweet potato, tomatoes and beans will soak up some of the juices, and will add flavor to the sauce. Also add chopped garlic and a good size onion.
Stock; vegetable, beef, or chicken, can add wine as well. Need enough liquid to cover the beef shanks by 3/4 up to the top.
Spices; use your favorite spices & little salt, be careful the sauce will cooked down and concentrate the flavours. The cooking method is to allow the meat and combined tissues to break down and release healthy nutrients, and combine the flavours. Add some olive oil.
Example cooking method:
Take organic grass fed beef shanks out of the refrigerator an hour before cooking.
Cut root vegetables and tomatoes into bite sized pieces, if using sweet potatoes- put the cut pieces in a bowl of water (to keep the pieces from getting brown) and set aside.
Preheat oven to 300 degrees F.
Oil a Dutch oven, or large heavy oven roasting pan, and place on the stove top. 
Heat the pan on high heat, and saute the shanks, cooking both sides until nice and brown- a few minutes per side.
Add the onions, tomatoes, and root vegetables (not the sweet potatoes though), and brown.
Carefully add in the stock and wine (if using) covering the shanks, up to 3/4 deep, and heat until the liquid starts to simmer.
Add the spices, and garlic.
Carefully place the pan into the oven.
Cook for about 3 hours, check shanks, can add more stock if liquid has boiled down.
Add sweet potatoes (if using).
Cook for another 3 to 4 hours, or until the meat easily falls off the bone, and is soft and tender.
Can let it sit, and prepare anything to have with, rice, risotto, or fresh dipping bread for spreading the soft and nutritious marrow.
Enjoy with family and friends. Please send us a photo...we'd love to see what you are all creating...