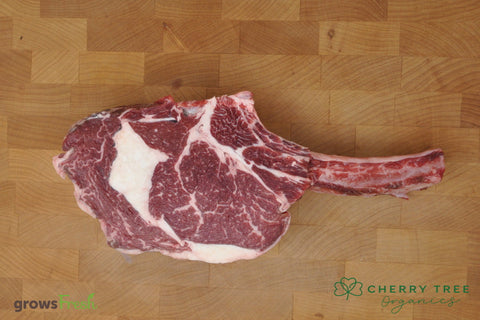 Cherry Tree Organics
Cherry Tree - Organic Beef - Rib Eye on the Bone - Steak - Grass Fed - Frozen - Australian
Cherry Tree Beef - Australia's finest pure grass fed Certified Organic Black Angus beef - Rib Eye on the Bone. Stunning eating experience.
The finest BBQ beef steak cut, super soft with a clean crisp grass fed beef taste.

Needs to hit the grill at a high temperature, being biodynamic organic its fat content is very different to grain fed, it actually holds lots of great minerals and nutrients, similar to omega's in our wild Alaska Salmon.
This cut needs a higher temperature to 'melt' and then once seared on the outside, cook low and slow.
Cherry Tree Organics beef is the product of 30 years of farming using the highest grade Black Angus genetics on biodynamic organic high rainfall pasture. This means the highest level of nutrition and genetics, free of all chemicals, has been cycling through the farm for more than 30 years. 
The beef is very soft, flavourful, and very moist when cooked. It is also very high in nutrient content, and most the key nutrients are stored in the natural fats in the beef. Like our Wild Salmon the fats are very good fats for you.
The beef feeds on very lush organic pasture including high clover content, receiving more then 50 inches of rainfall a year.
Cherry Tree Organic beef is from Cherry Tree Downs farmed by Shane and Ann Blundy in Gippsland, Victoria, Australia. The farming area is considered Australia's Premier Beef country.
The beef is certified organic under Australian and USA organic requirements:

Certified USDA Organic
Australian Certified Organic: Southern Cross No. 20119

growsFresh is very proud to have worked exclusively with Shane and Ann Blundy at Cherry Tree Organics to export this beef from Australia for the first time.
✔ Free Range
✔ Sustainable
✔ Grass Fed
✔ No Antibiotics
✔ No Hormones (HGP's)
✔ No Genetically Modified Organisms
Can be stored up to 6 months in freezer
Chosen weight is for one piece of steak which will be individually packed