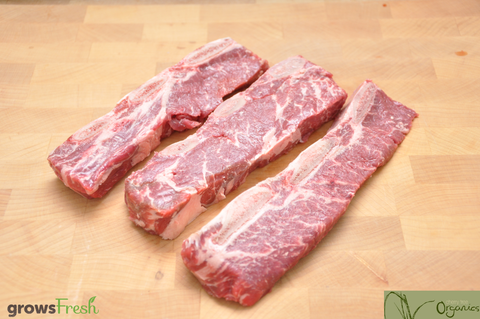 Cherry Tree Organics
Cherry Tree - Organic Beef - Short Rib - Slices - Grass Fed - Frozen - Australian
Cherry Tree Organics Beef Short Ribs are ideal on the BBQ or a hot grill. 
Cherry Tree Beef is now considered some of the finest Beef in the World, and the only Certified Organic Black Angus pure grass fed beef on the market. Velvet soft & nutrient dense.
From Black Angus Beef fed on pure organic grass fed pastures. Australia's finest organic beef.
Cherry Tree Organics beef is:

Certified USDA Organic
Australian Certified Organic: Southern Cross No. 20119

Short ribs sliced are a cut of beef taken from the brisket, chuck, plate, or rib areas of the cattle. Perfect for pan frying or grilling on the bbq.

Key Features
✔ Free Range
✔ Sustainable
✔ Grass Fed
✔ No Antibiotics
✔ No Hormones (HGP's)
✔ No GMO's
Each 500g pack contains between 2 - 3 pieces per pack
Vacuum Sealed with 4 days of shelf life
Can be stored up to 6 months in freezer
Defrost in the fridge overnight.