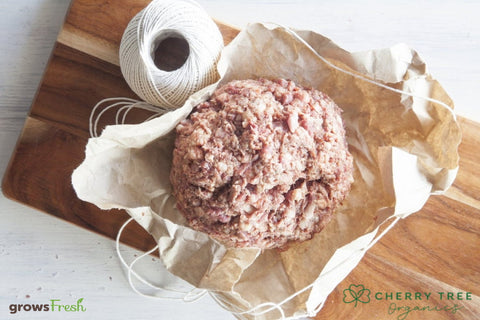 Cherry Tree Organics
Cherry Tree - Certified Organic Beef - Pet's Delight - Raw Pet Food - Frozen - Australian
Cherry Tree Organics Beef Pet Food - Raw Delight, the perfect raw carnivore diet for Dogs & Cats. Better for your pets than simple pure meat or mince, as it includes ground bones (minerals) including marrow and offal.
Cherry Tree Beef is now considered some of the finest Beef in the World, and the only Certified Organic Black Angus pure grass fed beef on the market. Velvet soft & nutrient dense.
Cherry Tree Pet food is naturally nutritionally balanced and biologically appropriate for cats and dogs. Made with Australian Certified Organic meat, fat, bones & offal (Kidney, Liver, Tongue, Tripe), bone dust/ground, and muscle connective tissue.
Pure 100% Beef animal pet food, the highest grade nutrition, no additives, no flavouring, Received directly via our weekly plane shipment from Cherry Tree Downs farm.
Portion size: 250g single serve.
Made fresh each week by farmer Shane it includes 65% meat, connective tissue and fats, 25% offal (including heart, kidney, tongue) & less than 10% ground beef bones. All 100% organic beef from Cherry Tree farm. 
Storage: keep in your freezer for up to 12 months. Thaw out in the fridge overnight to feed to your furry friends the next day.