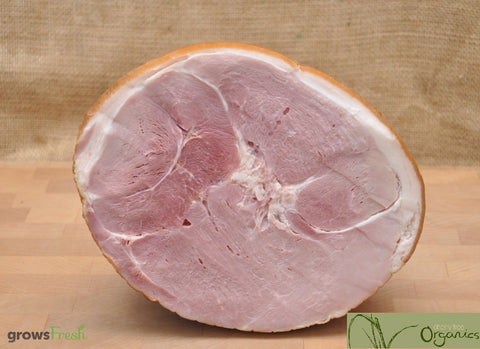 Cherry Tree Organics
Cherry Tree - Organic Ham - Smoked & Nitrate Free - Half Leg - Boneless - Australian
Certified Australian Organic White Clover Farm - Leg Ham - Boneless - Dry Aged - Nitrate Free.
Using Certified Organic White Clover Park Pork - British Breed Heritage Pork - small family farm raised British breed.

Australia's most premium pork ham product, super soft, mild flavour and clean pure organic pasture tasting. Free of Nitrates additives, water injections, hormones and antibiotics.
Cherry Tree Organic farm working with White Clover Park Pork farm grows English heritage breeds of pigs chosen for their full and tender flavour. It's rich, sweet and has great marbling.
Half hams, boneless and with rind on, they are ready for your Christmas celebrations.
Portion size: between 2.5 and 4.5kg.
The only pure certified organic ham available in Australia.
✔ Sustainable
✔ Grass Fed
✔ No Antibiotics
✔ No Hormones (HGP's)
Freshly vacuum packed with chilled fridge shelf life - 60 days
Once opened keep covered with moist towel and look to consume in 2-3weeks.
Varied Individual Sizes
Ingredients List
Certified organic pork, water, salt, celery extract & brown sugar