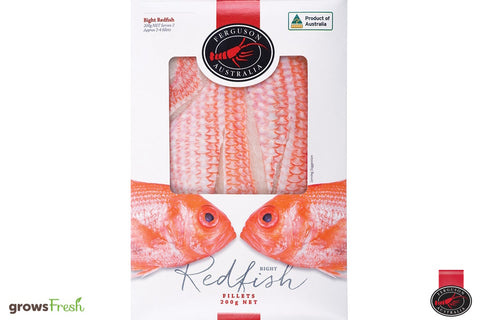 Ferguson Australia
Ferguson Australia - Red Snapper - Wild - Fillets - Snap Frozen - Australian
Also known as Bight Redfish, Nannygai, and Snapper.
South Australian Bight Redfish is wild caught in the pristine waters of the Southern Ocean and unloaded in Port Lincoln. Skin on, boneless fillets.
Red Snapper is one of Australia's premium eating fish. It is a small to medium sized fish and the fillets are sweet in flavour.
Red Snapper is delicious steamed, poached, used in curries, pan-fried, battered or grilled.
Redfish is filleted fresh and packed and frozen on the same day. The product is frozen fresh, to maintain the quality of the same day caught freshness.
Frozen Fillets Skin On Boneless
How to Cook Fish The Basics: www.fergusonaustralia.com/basics-cook-fish/
Pack size: 200g

✔ Wild Caught
✔ Sustainably Harvested
Defrost in fridge overnight before use
Average fillet 50-60 grams
3-4 fillets per kg
Learn more about Ferguson Australia - A family run business specialising in only Wild Sustainable Australian Seafood. www.fergusonaustralia.com