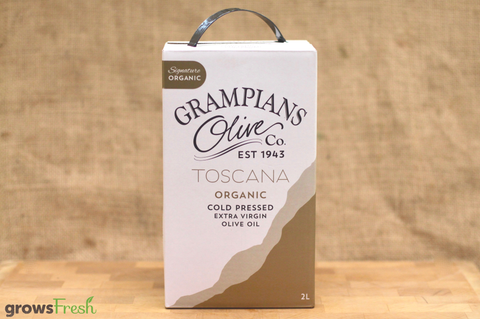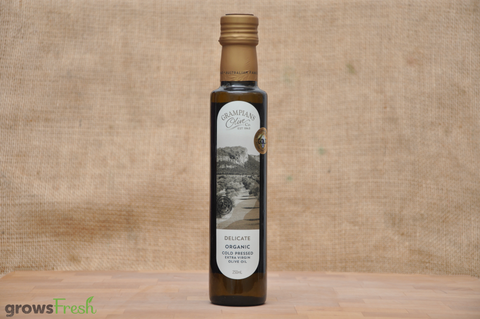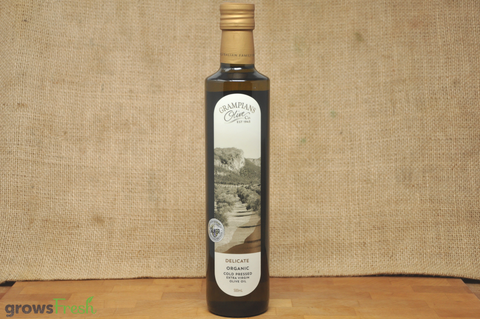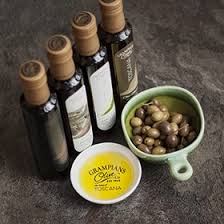 Cherry Tree Organics
Grampians Extra Virgin Olive Oil - Organic - Cold Pressed - Australian
Australia's highest grade Certified Organic Extra Virgin Olive Oil - Ideal for lovely simple salads, or, enjoy with some fresh crusty bread.
Beautiful artisan cold pressed olive oil from Grampians Australia.
Available in 250ml & 500ml bottles and Bulk 2 Litre casks.
This is the Delicate range from Grampians. Delicate is a late harvest style (pressed from riper olives) with delicate fruity flavours.
This oil is unfiltered, unrefined and lovingly hand-bottled in small batches. The heritage trees rely solely on natural rainfall and once picked, olives are cold pressed immediately producing a low yield of ultra-premium olive oil – beautifully concentrated in flavour.
Farmers: Greg Mathews - Grampians Olive Co - 376 Plantation Road Laharum - Victoria Australia
Established in 1943 and 100% family owned and operated, we are one of Australia's oldest olive groves. Heritage trees, dryland organic farming, a Mediterranean growing climate and a passion for quality combine to create our olive oils. We are the Grampians' leading olive producer, renowned for producing some of the best organic olive oil in Australia.
Grampians olives are grown and processed the way nature intended - completely free of pesticides, herbicides, synthetic fertlilisers and chemicals that could damage your health and our ecosystem. The entire grove is certified organic by NASAA (Cert. No. #3232P) and organic farming practices have been employed since the beginning when our trees were hand planted in the virgin soil. The farmer is always working to naturally improve the soil rather than deplete it and ensure our farming and processing practices are sustainable. For example the pomace (crushed stones and skins) obtained from pressing olives is composted and put back into the soil. The olive trees are carefully hand pruned, the prunings are mulched and put around the trees to improve the soil.
What are the health benefits of olive oil?
Olive oil is rich in anti-oxidants. These organic olives are pressed on-site within hours of picking, which maximises antioxidants such as Vitamin E, phenolic compounds and carotenoids. Research has shown that anti-oxidants combat 'free radicals', helping to slow the ageing process and prevent various diseases. Anti-oxidants also contribute to the shelf-life of the oil and enrich its unique flavour.
What is 'extra virgin' olive oil?
Extra virgin olive oil is essentially a fruit juice! It is obtained when oil is extracted solely by mechanical means (no excessive heat or solvents are used) from fresh, good quality olive fruit. It must be free of any taste defects and have a free fatty acidity level less than 0.8%. Grampians press the olives on site immediately once picked, achieving an acidity typically around 0.1% to 0.2%.
What is 'cold pressed' olive oil?
Cold-pressing is a term originating from the traditional screw type olive presses. Today it is generally accepted to mean that the temperature of the olives during mechanical processing does not exceed 27°C. Excess heat can increase the quantity of oil extracted, however this compromises its quality.
How should I store my olive oil?
Heat, light, oxygen and time degrade olive oil. To retain the health benefits and flavour of the oil as long as possible you need to minimise the exposure to these four elements. We recommend storing our olive oil in a dark place with a relatively constant, cool temperature away from direct heat and sunlight. At home, a pantry is usually the best place. Always re-seal the container immediately after use and avoid leaving next to the stove as the oil quickly heats up
For more information please visit the Grampians website: www.grampiansoliveco.com.au
Australian Organic Certified NASAA. Certificate No.: 3532P