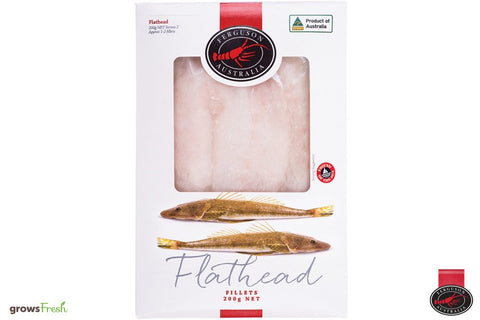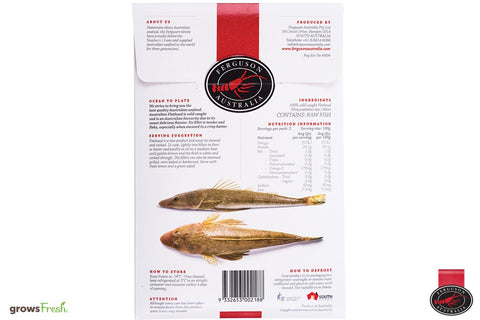 Ferguson Australia
Ferguson Australia - Deep Sea Flathead - Wild - Fillets - Snap Frozen - Australian
Flathead is wild caught and notably recognised for its usual flat head and body found in South Australian waters. The Australian Flathead is widely considered to be the best Australian fish for fish'n'chips, due to the sweet flesh which is moist, flaky and tender especially when encased in a crisp batter. It can also be steamed, poached, pan-fried or grilled.
Notably wild fished between Australia and Antartica in the pristine Southern Ocean waters.
Frozen Fillets Skin On Boneless
How to Cook Fish The Basics: www.fergusonaustralia.com/basics-cook-fish/
Pack size: 200g

✔ Wild Caught
✔ Sustainably Harvested
Defrost in fridge overnight before use
Average fillet 60-70 grams
3-4 fillets per pack.
Learn more about Ferguson Australia - A family run business specialising in only Wild Sustainable Australian Seafood. www.fergusonaustralia.com