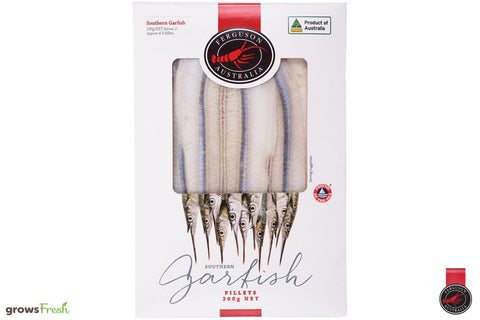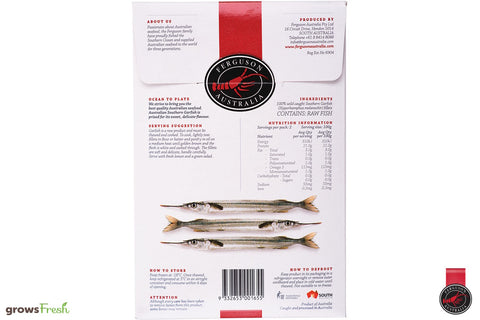 Ferguson Australia
Ferguson Australia - Garfish - Wild - Fillets - Snap Frozen - Australian
Southern Garfish (Hyporhamphus melanochir) are a schooling fish found in sheltered bays, inshore coastal areas, estuaries and especially where seagrass meadows are established.  They are found near the surface at night and on the bottom to midwater during the day.
Garfish are exceptional eating for delicate dishes, or rather lightly coat with flour and salt and pepper and fry with hot oil until nice and golden.
Southern Garfish is filleted fresh, packed and frozen all on the same day.
Frozen Fillets Skin On Boneless
How to Cook Fish The Basics: www.fergusonaustralia.com/basics-cook-fish/
Pack size: 200g

✔ Wild Caught
✔ Sustainably Harvested
Defrost in fridge overnight before use
Average fillet 50-60 grams
3-4 fillets per kg
Learn more about Ferguson Australia - A family run business specialising in only Wild Sustainable Australian Seafood. www.fergusonaustralia.com