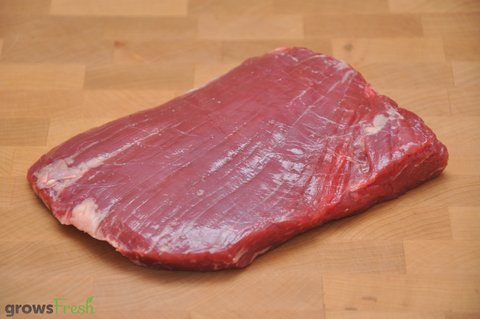 growsFresh
growsFresh - Beef - Flank - Steak - Grass Fed - Australian
Fresh made to order from Australia's premium grass fed Black Angus beef (YG/YP Grade - highest). Our Flank steaks are premium trimmed to provide a lean and clean tasting steak.
The Flank cut is becoming more popular of as a more economical way to enjoy a tender and tasty steak. It is full of pure grass fed beef falvour, moreso than other cuts.
Portion size: 300g per portion
Made using the highest grade pure grass fed British breed beef (Including Black Angus) from Australia's finest farmers in high rainfall areas. Now sourcing from the highest grade beef from Gippsland Region Victoria, King Island, & Margaret River WA.
Australia is producing some of the worlds finest pure grass fed beef, we are now able to work with those who are focusing on sustainable, non-GMO, no hormones, and no antibiotics farming methods.
The flank steak is extremely versatile. Relatively long and flat, it has a coarse grain running along its length. Perfect for thin slicing for a stir-fry and extremely well under slow-cooking conditions.
✔ Free Range
✔ Sustainable
✔ Grass Fed
✔ No Antibiotics
✔ No Hormones (HGP's)
✔ No GMO's
✔ Premium trimmed
Freshly vacuum packed with chilled fridge shelf life - 5 days