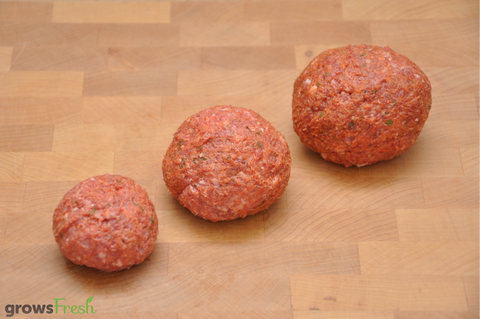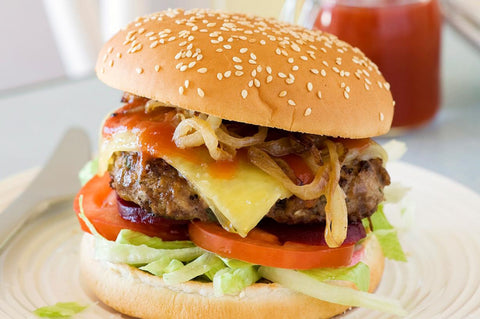 growsFresh
growsFresh - Beef - Hamburger - Fresh - Black Angus - Grass Fed Beef - Australian
Premium Black Angus grass fed Beef (YG Grade - highest) Burgers - made fresh for your order using our own seasonings.
.
Typically made using a special Chuck/ Brisket mix with a special blend of herbs and spices - these are popular with our restaurant customers who need a juicy burger.
.
Ready for the BBQ, considering flattening to suit your cooking style.

The fat in these burgers is pure grass fed beef fat,  now becoming more popular as people look back to have 'healthy fats including Omega 3's,' back into their diets. 
Portion size:  80g (Small), 150g (Medium), and 200g (Large) each. 
.
Made using the highest grade pure grass fed British breed beef (Including Black Angus) from Australia's finest farmers in high rainfall areas. Now sourcing from the highest grade beef from Gippsland Region Victoria, King Island, & Margaret River WA.
Australia is producing some of the worlds finest pure grass fed beef, we are now able to work with those who are focusing on sustainable, non-GMO, no hormones, and no antibiotics farming methods.
All our beef has reached reached as a minimum, Australia's MSA Standard (Meat Standards Australia), which assures consistency of product quality.
Our premium beef burger is made from brisket and chuck steak minced with special blend with herbs and spices.
✔ Free Range
✔ Sustainable
✔ Grass Fed
✔ No Antibiotics
✔ No Hormones (HGP's)
✔ No GMO's
Chilled fridge shelf life - 5 days
Weight chosen is for one burger
If not being used immediately, please purchase our

 

frozen beef burgers