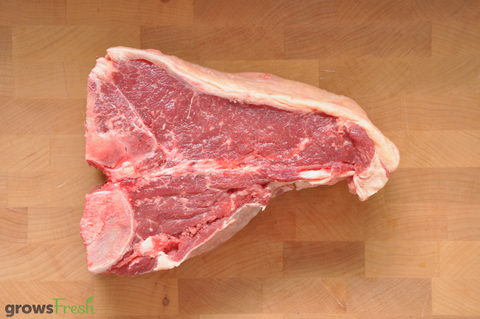 growsFresh
growsFresh - Beef - T-Bone - Steak - Grass Fed - Australian - Frozen
Australia's premium Black Angus 100% grass-fed Beef - T-Bones - Frozen
The classic T-Bone - a combination of a sirloin steak and small tenderloin steak both joined to the bone. Heaven for beef eaters that enjoy both cuts.
Grade: Australia YG (youngest = most tender)
Made using the highest grade pure grass fed British-breed beef (Including Black Angus) from Australia's finest farmers in high rainfall areas. Now sourcing from the highest grade beef from Gippsland Region Victoria, King Island, & Margaret River WA.
Australia is producing some of the worlds finest pure grass-fed beef, we are now able to work with those who are focusing on sustainable, non-GMO, no hormones, and no antibiotics farming methods.
The T-Bone typically is really at home being grilled on the BBQ.
Key Features:
✔ Free Range
✔ Sustainable
✔ Grass-Fed
✔ No Antibiotics
✔ No Hormones (HGP's)
✔ No GMO's
Defrost in fridge overnight before use
Can be stored up to 12 months in freezer
Chosen weight is for one piece of steak which will be individually packed