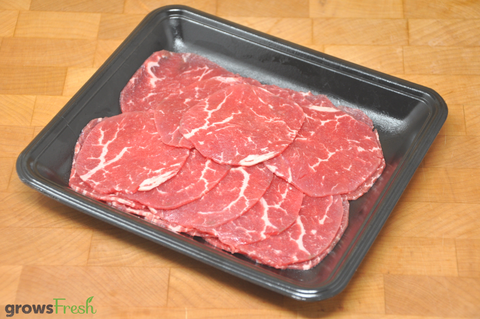 growsFresh
growsFresh - Beef - Tenderloin (Eye Fillet) - Carpaccio / Hot Pot Thin Slices (Shabu Shabu) - Grass Fed - Frozen - Australian
Australia's premium grass-fed Black Angus beef (YG/YP grade = youngest most tender beef).
Premium trimmed and thinly sliced, ideal for hot pot, Shabu Shabu, Korean BBQ, etc.
Portion size: 200g (approximately 20 slices)
Made using the highest grade pure grass fed British-breed beef (Including Black Angus) from Australia's finest farmers in high rainfall areas. Now sourcing from the highest grade beef from Gippsland Region Victoria, King Island, & Margaret River WA.
Australia is producing some of the worlds finest pure grass-fed beef, we are now able to work with those who are focusing on sustainable, non-GMO, no hormones, and no antibiotics farming methods.
The tenderloin is considered to be the most premium cut of beef available, it is always super moist and tender - as the name suggests 'tenderloin'.
Key Features:
✔ Free Range
✔ Sustainable
✔ Grass-Fed
✔ No Antibiotics
✔ No Hormones (HGP's)
✔ No GMO's
Vacuum packed with frozen shelf life - at least 6 months