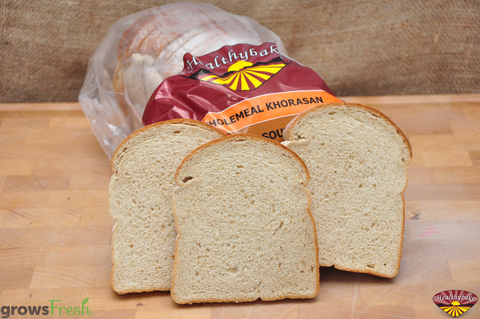 Healthybake
Healthybake - Organic Sourdough - Bread - Wholemeal Khorasan - Australian
Organic White Bread made using Khorasan whole grains. 
Healthybake are Australia's leading family owned and operated Organic Bakery.
They produce Organic Sourdough bakery products with the finest ingredients. Baked fresh for us each week to be put on our direct flight and to arrive for you as fresh as can be.
Portion size: 1 Sliced  Loaf, 700g.
.
Khorasan wheat or Oriental wheat, commercially known as kamut. It is an ancient grain type; This grain is twice the size of modern-day wheat and is known for its rich, nutty flavor.

Healthybake is an Australian family owned and operated group that produces a range of delicious organic healthy breads.
It is a credit to Sue and her family to have focused on traditional bread making techniques and inputs, using organic ingredients and baking using traditional sourdough. 
We have received good feedback already from some of you on the products who have had intolerances to modern breads, many thanks, and thanks to Sue and her family who are making the effort each week to export their wonderful products for the first time with growsFresh.
Healthybake generally bake premium bread products using ancient grains including, spelt, khorasan, oat, millet, barley and rye and more recently developed superfoods, high protein and FODMAP friendly organic bread.
It may take a week or so to get used to the bread, it is not the super soft high GI breads we may be used to, see if you can get the kids to stick with it for school lunches. The low GI index for the Healthybake breads should also help the attention span of the littles after lunch in school, where some commercial breads can cause an insulin spike and leave the kids flat in the afternoon.
Storage: Healthybake suggest, because Hong Kong can be quite humid, to store your bread in the freezer if you are not eating it on arrival day. Healthybake can be frozen and refrozen without problem. If no room in the freezer, leave the remaining loaf in a cool place in the pantry, Hong Kong humidity is not bread's friend, and contrary to popular belief try not to store the bread in the fridge as it will send it stale within days.
Fresh - store in cool, dry conditions away from sunlight
Can be stored up to 6 months in freezer
Ingredients:
Organic Wholemeal Khorasan (Wheat) Flour, Rye Sourdough, Filtered Water, Olive Oil, Vinegar, Sea Salt, Soy Lecithin
Nutrition Information
Servings Per Package:11
Servings Size:63.0g
| | AVE. QUANTITY PER SERVE | % DAILY INTAKE PER SERVE* | AVE. QUANTITY PER 100G |
| --- | --- | --- | --- |
| Energy | 670kJ | 7% | 1060kJ |
| Protein | 5.5g | 11% | 8.7g |
| Fat | 2.4g | 3% | 3.7g |
| - saturated | 0.3g | 1% | 0.5g |
| Carbohydrate | 26.9g | 9% | 42.6g |
| - sugars | 0.2g | <1% | 10.4g |
| Sodium | 307mg | 13% | 501mg |
| | | | |
*Percentage daily intakes are based on an average adult diet of 8700kJ. Your daily intakes may be higher or lower depending on your energy needs.
Contains: Wheat, Gluten, Soy