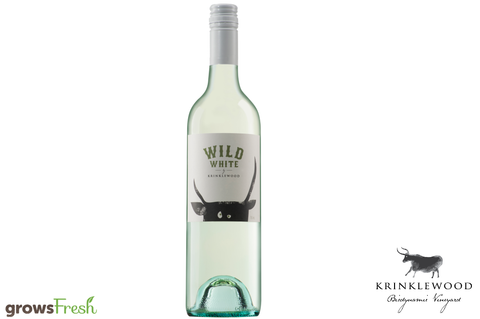 Krinklewood
Krinklewood Biodynamic Wines - Wild White - 2017 - Australian
Customers declare that he/she is over 18 years old when purchasing intoxicating liquor via this website. / 顧客凡透過本網站訂購酒類飲品,即聲明其已年滿 18歲。
Under the law of Hong Kong, intoxicating liquor must not be sold or supplied to a minor (under 18) in the course of business.
根據香港法律,不得在業務過程中,向未成年人售賣或供應令人醺醉的酒類。
Krinklewood Winery in Australia produces fine quality wines using biodynamic organic principles - no chemicals and no sulphites added.
Ideal for a quick pop and pour of an evening when putting your feet, or just as well suited with chicken, & white fish based dinner.
The 2017 Wild White is pale straw in colour with a light green tinge. It has an enticing aroma of citrus blossoms & freshly cut white peaches. The palate presents notes of passionfruit, melon and pink grapefruit. The balanced ripe fruit coupled with the wonderful natural acidity of this wine makes it perfect to be enjoyed on its own or with your favourite meal.
Varieties: Sauvignon Blanc 20%, Semillon 18%, Verdelho 6%, Chardonnay 1% Gewurztraminer
Krinklewood Wines produces a variety of wines all made using Biodynamic Organic principles. They are certified under Australian Certified Organic certificate number: Biodynamic 10648.
Winemaking Notes
Wild by name, Wild by nature.
Meet the audacious younger sibling of Krinklewood.
Our Wild White 2017 was created from certified biodynamic fruit & blended to create a crisp refreshing dry white wine.
Vintage: 2017 
Country: Australia 
Region: Broke Fordwich, Hunter Valley
Alcohol: 12.2% 
Bottle size: 750 mL 
Drinking Window: 2018 - 2019
pH : 3.43
TA :  6.8 g/l
Release Date: June 2018
Perfect drinking now