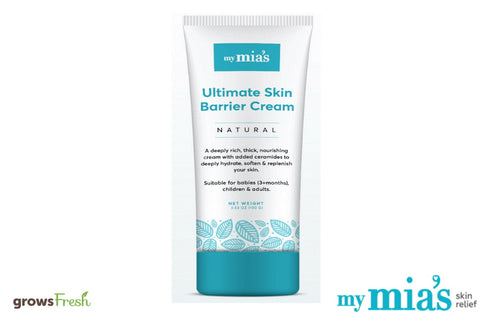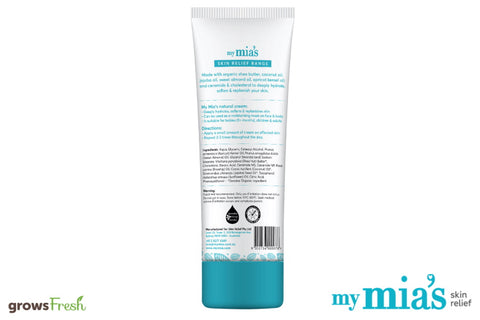 My Mia's
My Mia's - Ultimate Skin Barrier Cream - Australian
My Mia's - Ultimate Skin Barrier Cream is a natural beautifully balanced cream enriched with organic cold-pressed oils and natural ingredients to produce the best moisturising experience for your skin.
This is you go to cream for the little ones, and not so little ones as they grow up. Feel free to have it on hand for your daily hand and skin cream.
Ceramide and cholesterol are also added to boost skin barrier protection, hydrating and locking in moisture to restore your skin's glow.
Can be used for babies.
Size: 100ml
Expiry: 2024
Made in Australia, sourcing the finest natural & organic ingredients.
Benefits
 1. Deeply Hydrate and Repair Skin
Our cold-pressed organic oils, shea butter and ceramide and cholesterol, work together to deeply hydrate the skin, lock moisture into your skin and prevent water loss. The deep hydrating ingredients can leave your skin feeling moisturised and protected throughout the day.
2. Skin Barrier Protection
Replenishing the impaired skin barrier with ceramide and cholesterol is a critical component in your long-term eczema management plan. Strengthening the skin on the inside and creating a protective barrier (preventing further water loss and locking in moisture into the skin) will ensure your skin returns to its glowing, vibrant condition again.
3. Calm Dry, Irritated Skin
Included are gentle, calming and soothing ingredients to assist irritated and inflamed skin. The gentle ingredients penetrate the skin's deeper layers ensuring skin repair and generation of new skin cells.
4. Organic Anti-Inflammatory, Antioxidant, Antibacterial Ingredients
My Mia's have selected the highest quality, cold-pressed (wherever possible), certified organic ingredients for your complete skin calming, repair and hydration remedy. These ingredients are rich in vitamins and minerals and have been expertly formulated to restore your skin's natural glow.
5. Easy Application on face or Body
Our Skin Repair & Barrier Cream provides immediate relief to dry skin with dermatitis. It is also gentle enough to use on your face, neck and on your body. Application is easy, simply open the tube squeeze a small amount into your hands and apply a thin layer of cream on your skin.
Ingredients:
Apricot Kernel - Anti-inflammatory, antioxidant and antibacterial: calms and soothes skin irritated by eczema while also restoring moisture.


Coconut OIl - Anti-inflammatory and deeply hydrating: soothes and forms a protective barrier to lock in moisture. It is easily absorbed and penetrates the skin's barrier to improve hydration, which provides welcome relief for eczema sufferers.


Sweet Almond Oil - Antibacterial, antioxidant: easily absorbed into the skin and is deeply nourishing for skin suffering from eczema.


Shea Nut Butter - Skin moisturising and skin barrier protection: soothes, and moisturises the skin, which provides welcome relief to a person suffering from eczema, psoriasis or atopic dermatitis.
 Jojoba Seed Oil - Anti-inflammatory, antibacterial and antioxidant cold pressed organic jojoba oil: has a deeply moisturising and calming effect on dry skin, leaving it feeling wonderfully moisturised and nourished.
Tocopheroal (Vitamin E) Antioxidant: may help to repair scar tissue while also softening and repairing the skin.


Ceramide & Cholestrol - Skin barrier repair: creates a protective layer to lock in moisture, leaving skin feeling more moisturised and refreshed.
Rosehip Oil - Deeply moisturising: restores moisture balance to dry and damaged skin.

Sunflower Oil - Antioxidant: calms and soothes red, irritated skin, while hydrating and improving the skin's barrier.
For more information please visit www.mymias.com.au