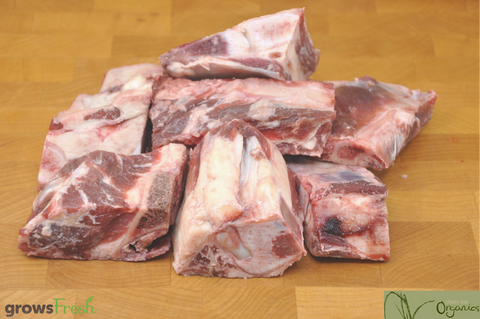 Cherry Tree Organics
Cherry Tree - Organic Beef - Bones for Pets - Grass Fed - Frozen - Australian
Organic Grass Feb Beef Bones for your best friend - 1 kg packs
These Certified Organic beef bones are exceptional, full of natural high grade nutrients only available in pure grass fed organic beef bones, your dogs will just love them.
These bones are rich in protein, fats, minerals and vitamins. They also contain marrow, blood and fats that also contain essential nutrients. Raw bones are high in collagen, all these things are beneficial as part of a healthy diet for a dog.
Not only do raw bones offer your dog nutritional benefits, the action of gnawing on the bones is fantastic for tooth and gum health. When your pet chews on the bones, it will massage their gums and clean plaque from their teeth.
Cherry Tree Organics beef dual certified organic accredited under:

Certified USDA Organic (USA)
Australian Certified Organic: Southern Cross No. 20119

✔ Free Range
✔ Sustainable
✔ Grass Fed
✔ No Antibiotics
✔ No Hormones (HGP's)
✔ No GMO's