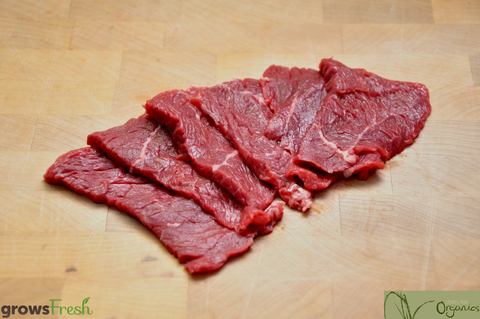 Cherry Tree Organics
Cherry Tree - Organic Beef - Thin Slices (Shabu Shabu) - Grass Fed - Frozen - Australian
Cherry Tree Organics 100% Certified Organic pure grass fed Black Angus beef.
Cherry Tree Beef is now considered some of the finest Beef in the World, and the only Certified Organic Black Angus pure grass fed beef on the market. Velvet soft & nutrient dense.
Now sliced into super thin slices for hot pot, carpaccio, shabu shabu.
A delicious clean taste from what is considered some of Australia's finest beef.
Portion size: 200g portions, frozen.
Cherry Tree beef is like velvet and ideal for adding to soups, hot pot, or add to a pan with some butter and quickly cook up as fun and easy meals for the kids.
The beef we are using is Cherry Tree Organic beef - pure grass fed Black Angus beef. We are slicing the beef from the lean Rump cut.
Enjoy it knowing you and your kids are eating healthy protein alongside your lovely soups full of fresh vegetables.
Farmer: Shane & Ann Blundy
Australian Certified Organic: Southern Cross No. 20119