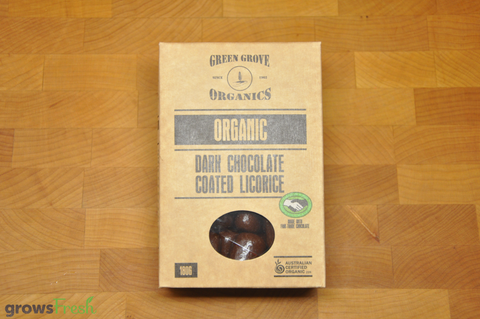 Green Gables
Organic Milk Chocolate Licorice - Australian
Organic Licorice coated in couveture belgium Milk Chocolate.
Portion: 180gm Box.
Green Grove coat all products in an Organic Belgian styled coverture chocolate. This differs tremendously from compound chocolate typically found in supermarkets. Coverture chocolate uses the whole of the cacao bean rather than substituting ingredients. This results in a luxuriously smooth and full flavoured chocolate that is extremely beneficial to your health.
Allergen alert: Dairy and Soy ingredients.
From Green Grove Organics - Australian Certified Organic Certificate Number: 225
Junee, NSW, Australia
Ingredients: Licorice (molasses, wheat flour, whole cane sugar, invert syrup, licorice root powder, star anise oil, vegetable colour) Dark chocolate (whole cane sugar, cocoa mass, cocoa butter, soy lecithin), glazing agent
Manufactured in equipment that is also used for the processing of products containing gluten and other tree nuts