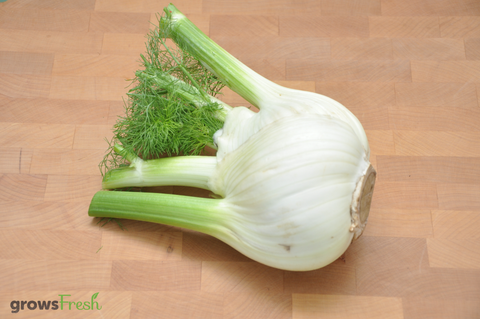 Peninsula Organics
Organic Fennel - Bunch - Australian
Fresh Certified Organic Fennel Bulb - Whole
Portion size: various available
Fennel is a plant with aromatic leaves, stalk, and bulb whose flavor is similar to anise or tarragon, although it is actually from the carrot family.
Like celery, the entire fennel plant is edible and lends itself to a wide variety of cooking applications. In fact, this mildly licorice-flavored plant is a member of the parsley family. Lastly, we can't ignore the health benefits of fennel. Just one cup of fennel contains almost 20 percent of your recommended daily value of vitamin C. You'll also find plenty of iron, fiber, and potassium. 
Farmer: Peninsula Organics Australia
Wayne & Tash are 5th generation Market Gardeners located in Baxter on the Mornington Peninsula. Thier amazing produce is grown organically and is picked fresh the evening before being sent to us for loading same day on a flight out of Melbourne, it is then available on pickup to be in your kitchen within 24 hours of that each Wednesday.
We also manage the cold chain logistics all the way through to growsFresh fufilment centre here in Hong Kong.
Please visit Wayna and Tash's website for morning information on down to earth farmers, growing great produce the way their family has done for generations: 
http://www.peninsulafresh.com/
 Australian Certified Organic. Certificate No. 1361        
Storage recommendation: As our organic fruit and vegetables are natural and not treated with any preserving agent, we recommend that that they are kept in the fridge or cool temperatures to slow down any ripening if not being eaten once received.