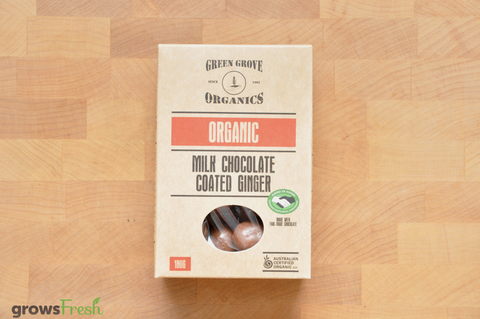 Green Grove
Organic Milk Chocolate Ginger - Australian
Organic dried ginger coated in smooth organic Belgian chocolate. Box is 180g size.
Green Grove coat all products in an Organic Belgian styled coverture chocolate. This differs tremendously from compound chocolate typically found in supermarkets. Coverture chocolate uses the whole of the cacao bean rather than substituting ingredients. This results in a luxuriously smooth and full flavoured chocolate that is extremely beneficial to your health.
Allergen alert: Dairy and Soy ingredients.
Producer: Green Grove Organics - Junee, NSW, Australia
Australian Certified Organic Certificate Number: 225
Ingredients: Organic Milk Chocolate 75%: Whole Cane Sugar*, Cocoa Butter*, Whole Milk Powder*, Cocoa Mass*, Soy Lecithin, *Bourbon Vanilla Powder. (* Certified Organic Ingredients), Organic Dried Ginger