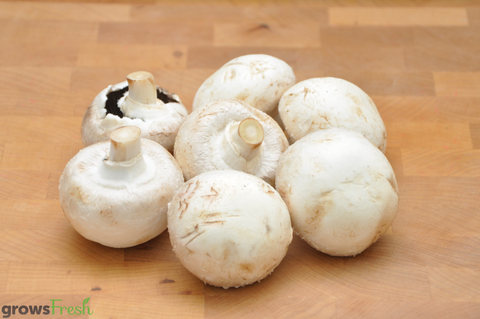 Benalla Organic Farms
Organic Mushrooms - Australian
Certified Organic Fresh Small Cups Mushrooms 
Add to your favourite salads, or add some butter and chopped garlic in a pan and add sliced mushrooms and gently pan fry. Add to your favourite pasta, on top of your favourite steak, or simply on hot toast and melted butter.
Portion size: various portion sizes available
Farmers: Benalla Organic Farms Victoria Australia
Benalla Mushrooms are an organic mushroom producer based in Benalla, a country region of Victoria. Andrew Cowan and his father Norm started the business over 25 years ago. The farm produces over 100 tonnes of mushrooms each year although being organic makes it more difficult to produce successful harvests. They made the decision to switch to organic after discovering the amount of pesticides that were being used, and wanted to offer the choice of organic mushrooms to the market. Benalla Mushrooms has now been certified organic for over 20 years, and won the Australian Organics Chairman's Award in 2016.
Australian Certified Organic: Certificate No.: 3863
Storage recommendation: As our organic fruit and vegetables are natural and not treated with any preserving agent, we recommend that that they are kept in the fridge or cool temperatures to slow down any ripening if not being eaten once received.