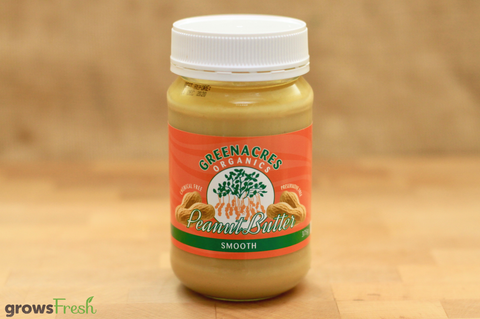 Greenacres Organic Farm
Organic Peanut Butter - Smooth - Australian
Australian grown organic peanuts used to make peanut butter - both crunchy & smooth.
An utterly pure 100% peanut butter made from fresh dry roasted certified organic peanuts shelled from Greenacres Organics. Great just as snack or for use in cooking. Green Acres Organics organic peanut butter is chemical and preservative free.
The Blanch Family run Greenacres Organics, which is located in the South Burnett at Coolabunia Queensland Australia, halfway between Kingaroy and Nanango.
Currently they are the only grower of organic peanuts in Australia and therefore supply a large percentage of Australia with Certified Organic Australian raw and roasted peanuts.
Ingredients: 100% dry roasted organic peanuts.
Australian Certified Organic: 448A