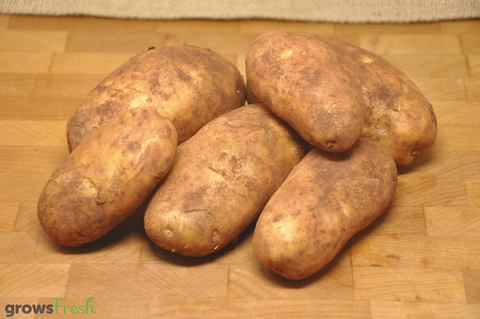 Bauer's Organic Farm
Organic Potatoes - Dutch Cream - Unwashed - Australian
Organic Dutch Cream Potatoes-unwashed.  
The queen of potatoes! They're a large waxy oval potato with yellow flesh, thin skin and a rich, buttery taste. They make gorgeous mash or are equally delicious boiled, roasted, baked and pureed. 
Portion size: various minimum sizes available in a brown paper bag
The Bauer family farm uses organic and biodynamic principles and enjoy producing yummy, healthy food for all to enjoy.  The Bauer's have farmed the land at Mt Sylvia in Queensland Australia for over 130 years now and have fed many thousands of customers with quality organic produce. From all historical information, the property is as healthy now as it was back then. You can't get more sustainable than that!
Farmers: Rob and Trude Bauer
Storing your potato's: 
Keep them in a cool, dry, very dark spot. Potatoes go green when exposed to light.  It's not only sunlight that is harmful ..... all lighting does the same thing. The green is not only on the skin, the flesh inside also gets discoloured. 
While the humble potato is a constant in the kitchen, you should never let one sneak into your fridge. Low temperatures prompt the starch which is what gives your potatoes such a wonderful, earthy texture to convert into sugars, turning them sweet and gritty.
Instead store potatoes in a dry, cool and dark place, preferably in a box or a paper bag. As long as they are nowhere near your onions, because..onions and potatoes both need the same type of environment (we all know that) so we all store them together.
Farmers: Rob and Trude Bauer - Organic and biodynamic farmers
Australian Certified Organic: Certificate: 12063          
For more information on Rob and Trude please visit their website:
www.bauersorganic.com