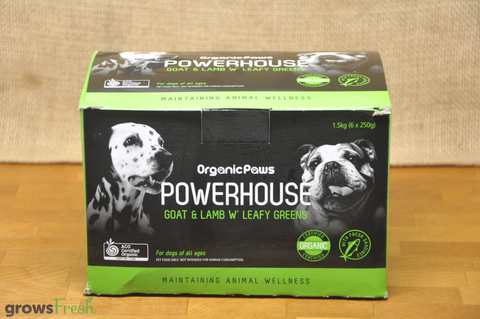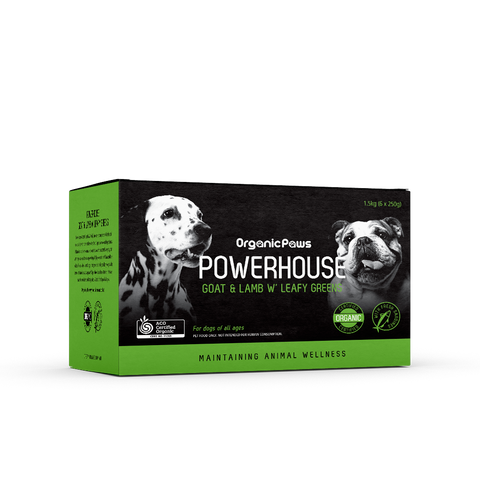 Organic Paws
Organic Powerhouse - Goat & Lamb w'Leafy Greens - Frozen - Australian
Powerhouse Goat & Lamb w' Leafy Greens is a complete and balanced meal packed with nutrient dense Certified Organic wholefood ingredients.
Australia's No.1 Certified Organic Raw Meat Dog & Cat Food
Portions: Each 1.5kg box contains 6 x 250gm vacuum sealed portions.
This recipe has been formulated to mimic a canine ancestral raw prey diet with importance and focus on providing a high protein diet with balanced fats. Added fresh sardines, whole eggs, hemp seed oil and vegetable fibre ensures this recipe packs a powerful punch of abundant vitamins, minerals, essential nutrients and fatty acids. Suitable for dogs of all ages.  Our meals should always be fed raw and not cooked due to the ground bone content.
Benefits for your furry friend:
Naturally rich in essential nutrients, vitamins and minerals
Safe food, free from harmful synthetic toxins
Develop a stronger and healthier immune system
Greater resistance to disease
More energy
Softer coat with more luster, no more doggy smell
Healthier skin, nails, ears, teeth and gums
Fresher breath
Reduced stool volume
Instinctively tastes better and more satisfying
Made with Certified Organic meats, ground bone and organs including green tripe, each Organic Paws recipe is complete to simulate a carnivore's natural diet.  Using "whole" carcasses including whole chickens and all prime cuts ie. porterhouse, sirloin, topside steak and rumps etc. ensures only nutritious quality muscle meat is used with no fatty trim or off cuts. Cod Liver Oil and Kelp are also added to each recipe in balanced quantities, both well known and documented for their overall and powerful health benefits.
Organic Paws recipes are biologically appropriate, toxin free, complete and balanced meals for your pet, giving them the daily nutrition they need to thrive with good health.
| Ingredients | Benefits |
| --- | --- |
| Goat Meat* | Full body goat meat including all prime cuts, high in protein and iron. |
| Lamb Meat* | Full body lamb meat including all prime cuts eg. loin, rib and legs. |
| Ground Bone*  | Highly digestible source of calcium vital for strong teeth, bones and structure of joints. |
| Liver* | Excellent source of vitamin A which promotes healthy skin, teeth and eyes, as well as good source of iron, zinc, copper, B vitamins, vitamin C & D. |
| Kidney*  | High in protein and contains many B vitamins, such a riboflavin and niacin, as well as iron and zinc. |
| Heart* | Very high in iron and a good source of selenium, zinc, phosphorus, niacin and riboflavin. |
| Green Tripe*     | Contains many essential nutrients, fatty acids, enzymes and beneficial bacterial working like a probiotic to keep the gut healthy, green tripe has enormous health benefits for your pet. |
| Seasonal Leafy Greens* | Fresh seasonal leafy greens including spinach, lettuce, Bok choy, carrot tops, kale, herbs, cress, Kang Kong and rocket.  High in antioxidants and protective phytonutrients, calcium, potassium and magnesium and healthy soluble fibre. |
| Fresh Sardines | Packed full of omega 3's and high in protein, calcium, selenium and niacin.  Foods high in omegas help to reduce inflammation and improve brain function. |
| Whole Eggs* | A complete source of amino acids.  High in vitamin A, riboflavin, folate, vitamin B12, iron, selenium and fatty acids. |
| Hemp Seed Oil* | More omega's than any other food, balanced ratio 1:3 (Omega-6 to Omega 3) ratio.  A rich source of vitamin E antioxidant and a unique Gamma-Linolenic Acid (GLA) source – anti-inflammatory. |
Feeding guide:
Puppies up to the age of 6 months require to be fed twice daily.
| Body Weight | Feed |
| --- | --- |
| 1kg-5kg | 100gm-200gm |
| 5kg-10kg | 200gm-300gm |
| 10kg-20kg | 300gm-400gm |
| 20kg-30kg | 400gm-500gm |
| 30kg-40kg | 500gm-600gm |
Nutritional Information Panel
| Nutrients | Quantity Per 100g |
| --- | --- |
| Energy  | 708.1KJ / 100g |
| Protein   | 10.4g |
| Fat, Total   | 12.1g |
| Saturated    | 5.40g |
| Omega 6  | 1.95g |
| Omega 3     | 0.40g |
| Carbohydrate  | 4.84g |
| Moisture | 71.0g |
| Sodium | 97.8g |
| Calcium   | 4,600mg/kg |
| Phosphorus    | 3,300mg/kg |