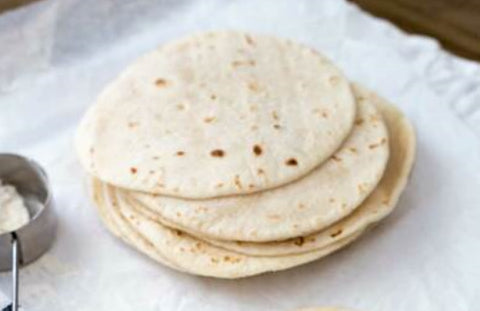 Natureen
Natureen Bakery - Traditional Soft Wheat Wraps - Australian
Traditional Soft Wheat Wraps made from Australian pure wheat flour, freshly baked and sent directly from a small family Bakery in Victoria Australia.
Soft wraps ideal for just about anything, toasting, wrapping fresh lunches, toast in oven and cut into triangles for use in nacho's etc.
Portion size: 220g per pack which includes 5 wraps which are approximately 45 gram each.  
Natureen Bakery team is nestled in the outer eastern suburbs of Melbourne, Australia. Since mid 1981 the small traditional family business has developed quite substantially over the past years, with a versatile range of fine quality products. The range of the premium products resently produced by the business is a variety of organic flour wraps.
The Wheat flour used in the wraps is sorted and milled from local Australian wheat
farmers around the Manildra area which is a small village on the banks of the Mandagery Creek halfway between Orange and Forbes in N.S.W.

The Australian Salt used in our products is acquired from a small family business
which produces the salt by mostly naturally drying it in the sun, from the Spencer Gulf, near the small town of Whyalla in South Australia.

The canola oil used in our products is made in Australia and is GMO Free.
Each pack includes a resealable bag and oxygen pad to provide maximum freshness if not eating all wraps when initially opening. 
These can be kept in the freezer for up to 6 months and each one removed as needed.
Ingredients: Wheat Flour (Folic acid,Thiamine), Water Added,
, Baking Powder (450,500).
Nutritional Information     Piece 
 
 
 
Per 65g
Per 100g
Energy*                           
 
 813kj            
1250kj
                                        
 
195 cal           
299 cal
Protein                               
 
5.1g             
7.8g
Fat-Total                            
 
4.9g          
7.5g
 Fat-Saturated                     
 
0.8g        
1.2g
Mono Unsaturated Fat         
 
1.0g           
1.5g
Poly Unsaturated Fat          
 
 3.2g        
4.8g
Trans Fat                         
 
<0.1g      
<0.1g
Carbohydrates -Total         
 
31.3g      
48.1g
                      -Sugars        
 
1.3g         
2.0g
Dietary Fibre                      
 
 1.7g          
2.5g
Cholesterol                       
 
<2.mg        
<3.mg
Potassium                          
 
65mg       
100mg
 Sodium                          
 
 384mg       
590mg