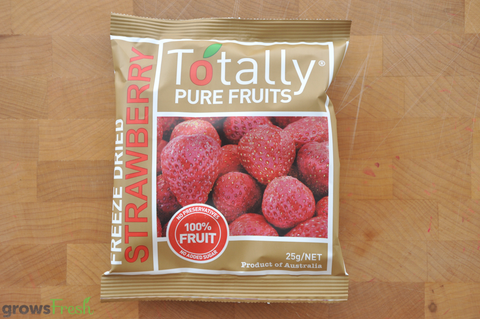 Totally Pure Fruits
Organic Strawberries - Freeze Dried Snacks - Australian
Whole Strawberries Freeze Dried Snack Packs (25 grams per pack) from Totally Pure Fruits
Biodynamically organic and bursting with flavour, a little like strawberry sherbet - a unique eating experience and still high in strawberry nutrients and minerals. Freeze drying maintains close to 95% of the nutrients and minerals.
100% pure  fruit - nothing added! No added sugar, fats, oils, sulphur or preservatives of any kind.

Healthy - perfect for school lunches or after the gym, on the train to take your serving of fruit anywhere.
Country of origin: Australia
Suitable for gluten free diets
Suitable for vegans and all types of vegetarians
GMO-free, BPA-free and not tested on animals
World class technique: low temperature, snap freeze dried and air dried fruits - no higher than 45°C.
Why Totally Pure Fruits?
* 100% Australian FRUIT!
* Source of vitamins, minerals and fibre
* No preservatives
* No added sugars, colours or flavours
* Gluten free
* Fat free
* Dairy free
* Sulphur free
* Long shelf life.
How are Totally Pure Fruits made?
Totally Pure Fruits are created by placing fruits in a refrigerated vacuum chamber which first freezes the fruits at ultra-low temperatures, and then applies a vacuum. This removes up to 97% of the moisture. The snap frozen fruits are then naturally air dried.
Freeze drying is the gentlest method of food preservation with regard to cell structure, maintaining the activity of enzymes and keeping various long chain compounds intact.
In comparison to alternatively dried foods, freeze dried products are said to retain up to 95% of the original nutrients, size, shape, colour and flavour. No additives, preservatives, artificial flavours or colours.
The science of freeze-drying retains the nutritional advantages (vitamins, minerals and fibre) of fresh fruits, and because only water is extracted from the fruit, the flavour is rich and natural.
What's left are crunchy fruit pieces that retain virtually all of their nutrients and are easy to enjoy anytime, anywhere!!
Enjoy:
- For kids: it is the perfect solution to fill lunch boxes with natural and appealing snacks and to provide children with something on-the-go that is yummy and healthy too.
- Us too - Not only for Kids! A great boost to keep up our daily fruit intake and a way to carry a convenient, preservative/sugar/fat free flavourful snack.
Storage:
Unopened - In a cool dark cupboard away from direct sunlight, shelf stable packaging.
Opened - Keep in an airtight container and consume within 3 days.