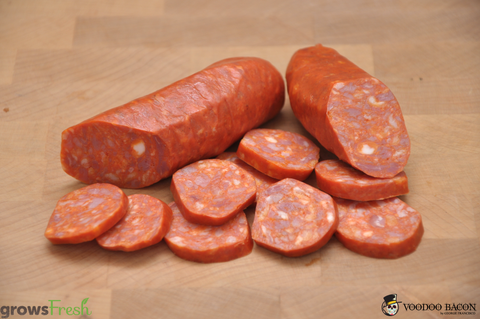 Voodoo Bacon
Voodoo - Chorizo - Dry Aged - Applewood Smoked - Nitrate free - Australian
Voodoo Bacon's legendary creator George Francisco has made us a special Southern Smoked Chorizo - nitrate free and made using all natural ingredients. A seriously tasty delight!
Beautiful smokey, spicy flavours. Ideal for cheese plate, or gentle cook in the pan to release incredible smokiness and flavours and add to pasta or serve in strips to entertain and wow your guests.
Portion:  2 Whole Chorizo sausages per pack.
It can be eaten raw or is amazing when cooked. It has been smoked heated to 60 degree celsius.
Each pack contains 2 whole - chorizo sausages.
It is made using the same Southern US apple wood smoking techniques used in the Voodoo Bacon.