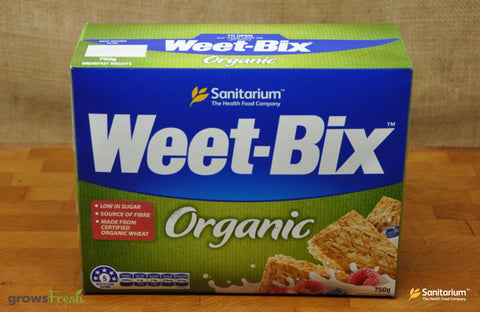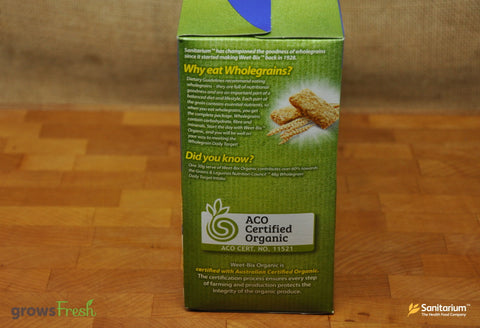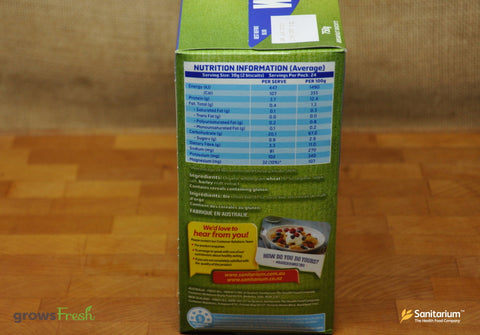 Weet-Bix
Weet-Bix - Certified Organic - Wholegrain Wheat - Australian
Australia's iconic breakfast cereal now Certified Organic using Wholegrain Australian Organic Wheat.
How many Weet-Bix bricks can you do for breakfast..?  Many variations on this healthy breakfast served in a bowl with splash of fresh milk with sugar dustings, or honey dribbled in your favourite patterns across the top, or even cut them in half and add a little butter and their favourite topping for a snack after school.
All the taste of regular Aussie Weet-Bix™, made from organic whole wheat. With the goodness and energy from 97% wholegrain, Weet-Bix™ Organic provides a source of fibre, is a source of magnesium, and is low in fat and sugar.
The Australian Health Star Rating (HSR) of a product is based on a calculation that considers the amount of energy, saturated fat, sugars, protein and fibre present in a food, along with the fruit, vegetable, nuts and legume content. Click here for more information about the Health Star Rating program
Weet-Bix™ Organic complies with the Australian Certified Organic Standard and is certified by Australian Certified Organic - the largest organic certifier.
97% wholegrain wheat
Low in sugar
Low in fat
Low in saturated fat
Source of fibre
Source of magnesium
Made from certified organic wheat
One bowl of Weet-Bix™ Organic provides 60% of your daily wholegrain needs*
* One 30g serve of Weet-Bix™ Organic contributes 60% of the 48g whole grain Daily Target Intake
Ingredients:
Organic wholegrain 
wheat
 (97%), organic sugar, salt, 
barley
 malt extract. 
Contains cereals containing gluten.