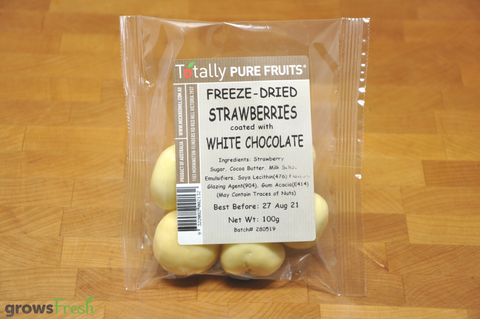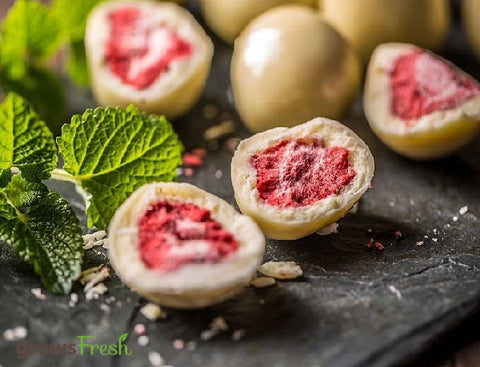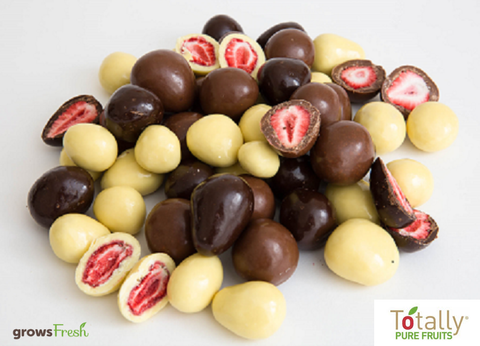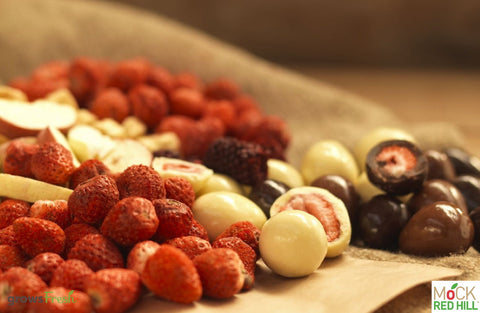 Totally Pure Fruits
White Chocolate Covered Freeze Dried Strawberries - Australian
White Chocolate covered Strawberries (freeze dried) - 100g packs
Delicious, decadent, and an amazing strawberry sherbert flavour bomb...ideal as after dinner treat, or for that unique festive season gifts.
Ofcourse the little ones adore these...they will try to snavel them at any chance..
Biodynamically organic and bursting with flavour, a little like strawberry sherbet - a unique eating experience and still high in strawberry nutrients and minerals. Freeze drying maintains close to 95% of the nutrients and minerals.
Made on the Mock Hill farm in Red Hill Victoria.
Whole Strawberries Freeze Dried Snack Packs from Totally Pure Fruits
100% pure  fruit - nothing added! No added sugar, fats, oils, sulphur or preservatives of any kind.
Healthy - perfect for school lunches or after the gym, on the train to take your serving of fruit anywhere.
Country of origin: Australia
Suitable for gluten free diets
Suitable for vegans and all types of vegetarians
GMO-free, BPA-free and not tested on animals