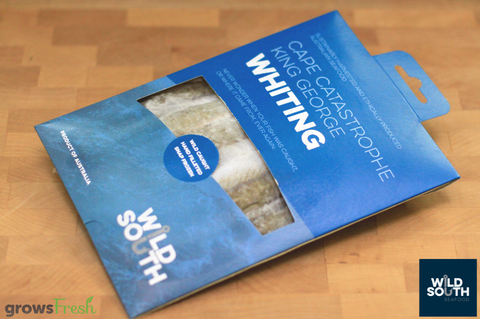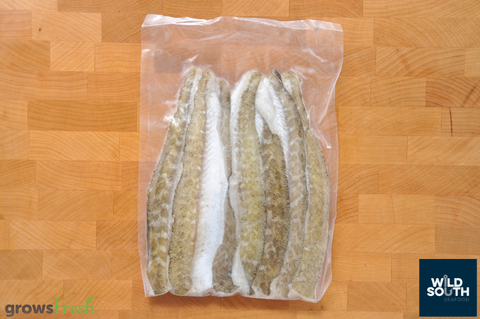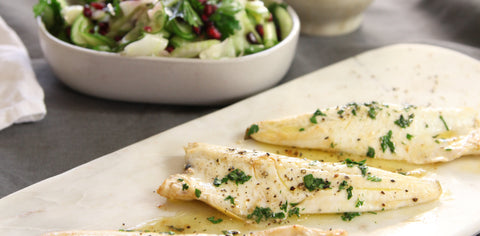 Wild South
Wild South - King George Whiting - Fillets - Snap Frozen - Australian
Australia's Premier White table fish - King George Whiting 
Fillets, skin on and boneless. Sweet and delicate white fish easily lightly cooked in a pan.
Australian King George Whiting is world renowned for its succulent flesh, sweet taste, and ultra soft fine texture.
Pack size: 280g
Certified as Sustainably fished out of the pristine Southern Ocean between Australia and Antarctica.
Wild South Seafood Whiting is wild caught from Australian Southern Ocean. It is line caught and wild.
The fish is collected from a community of boats when they pull up at the wharf, beautifully hand filleted with care, packed into 2 person sized fillets, vacuum packed and immediately individually quick frozen. All within a few hours of coming off a boat.
Although snap frozen, after thawing in the fridge overnight, the quality is exceptional. From when the fish first leaves the sea the process of getting it to you in the best condition takes no short cuts, and provides full traceability.
King George Whiting is known as the King of the Whiting when it comes to eating pleasure. A fine flaked fish with extremely low oil content to be carefully cooked under low heat. Our favourite easy peasy cooking recipe is below.
Key Features
✔ Wild Caught
✔ Sustainably Harvested
Defrost in fridge overnight before use
Approx 7 fillets
Easy peasy pan fried whiting recipe:
Ingredients
560g skinless whiting fillets, bones removed.
Sea salt flakes and freshly ground black pepper.
2 tablespoons extra virgin olive oil, plus extra for drizzling.
40 g unsalted butter.
1 lemon, juices and finely zested.
2 tablespoons finely chopped spring onions – mainly green/white parts
Cooking method:
Heat 2 large frying pans over high heat so you don't overcrowd the pan and 'poach' the fish rather than pan-fry it (see note). Season the fish, add a drizzle of olive oil to both pans and, when hot, add 2 fillets to each pan. Cook for 2 minutes on each side, then divide the butter, lemon zest, lemon juice and parsley between the pans. Shake to gently combine, then serve immediately with the salad.